Skip to Content

Graylyn Estate & Conference Center
Captivating Estate
With

Rich Traditions

Step through Graylyn's 15th-century French-carved doorway and discover a manor that is nothing short of a masterpiece – an enchanting piece of history that honors the life and legacy of the Gray family. But beyond its grand archways and gilded finishes, this storied estate holds a special secret.

A warm and welcoming hotel and world-class conference center where uniformed butlers treat arriving guests like royalty.
Book Direct And Enjoy
Exclusive experiences and special offers
Lowest price guaranteed
What Graylyn Guests Love Most
Rich History
In 1928, Bowman and Nathalie Gray set out to build Graylyn. The historic Graylyn Estate features 85 well-appointed and uniquely decorated guest rooms attractively situated throughout the pristine 55-acre estate. Graylyn emerged as the second-largest private home in North Carolina.
What Graylyn Guests Love Most
Butlers
Our professional butlers, bellhops, and valets are at your service day and night, ready to handle anything from a historic tour to a late-night coffee service.
What Graylyn Guests Love Most
Enchanting Atmosphere
Each room within the Manor House tells a unique story of the globe-trotting Gray family, from the Persian Card Room to the whimsical Atlantis Room.
What Graylyn Guests Love Most
Architectural Splendor
From custom ironwork to hand-painted tile motifs and 17th-century oak paneling from France, Graylyn is testament to fine European craftsmanship.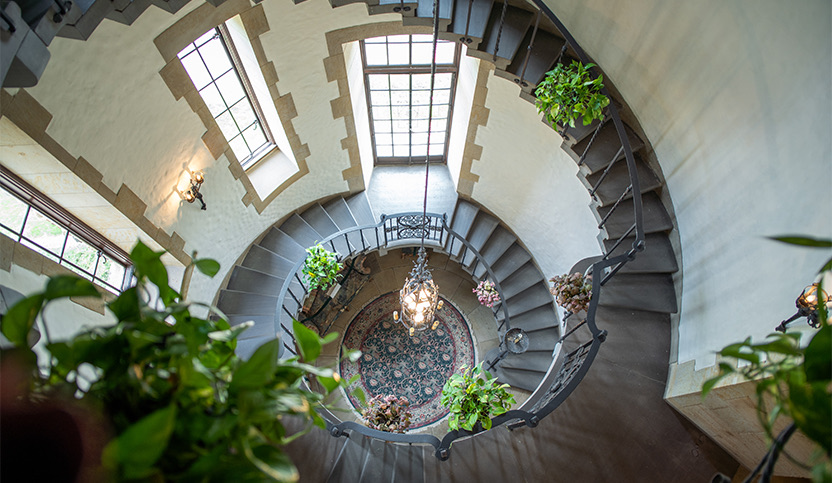 Dining
Extraordinary Estate Dining
Graylyn Estate-grown herbs and seasonal produce elevate Chef Mark Fortino's flavorful menus, served in the cozy and casual cellar Grille Room and the Manor's magnificent dining rooms.
An Enchanted 55-Acre Estate
1. Manor House
Ice Cream Room
Front Desk
Grille Room
Billiard Room
Guest Bicycles
Guest Rooms
An Enchanted 55-Acre Estate
2. Bernard Cottage
Ice Cream
Private Event Space
Estate Guest Rooms
An Enchanted 55-Acre Estate
An Enchanted 55-Acre Estate
4. The Mews
The Keeping Room Gift Shop
Guest Bicycles
Ice Cream
Mews Exercise Room
Private Event Space
Estate Guest Rooms
An Enchanted 55-Acre Estate
An Enchanted 55-Acre Estate
An Enchanted 55-Acre Estate
Keeping Room
Guest Check-in
Gift Shop
Ice Cream
Gracious and Responsive
"Everything was provided with professionalism and grace. Thank you for a great stay. The grounds are beautiful. The service is over the top and the amenities are easily accessed and in great working order. Being able to grab a bike on impulse and ride through the property as well as neighboring Reynolda and the Wake Forest campus was a much-appreciated perk. Thank you, Graylyn."
-Julie931 on TripAdvisor
Enchanting
"This venue is truly enchanting for a wedding. From the architecture to all of the grounds, it is truly a hidden gem within the city limits of Winston-Salem. The staff is very attentive but do not hover. This property was easily walkable but also ADA compliant."
-Shea A on TripAdvisor
Altogether lovely!
"Our short stay was a welcome step back to elegance and gracious service. The property is beautiful and it's an easy stroll to Reynolda House and other attractions. We are looking forward to another visit."
-jacqrio on TripAdvisor
Simply incredible.
"Everything exceeded my wildest expectations. I stayed in the Manor House and truly felt like a lady of the manor. I was also staying for my wedding weekend and I am so happy I did because Graylyn will forever play a special moment in my life. Truly could not recommend enough."
-Kgracesohn on TripAdvisor