Skip to Content

Dining In Winston-Salem
Graylyn's World-Class Dining
The Graylyn dining experience begins each morning with a lavish Manor House breakfast featuring fresh, locally sourced ingredients. At midday and in the evening, guests enjoy Chef Gregory Rollins' exquisite seasonal menus in the Manor House dining rooms or on an elegant outdoor patio, heated on cool fall evenings, overlooking the estate.
test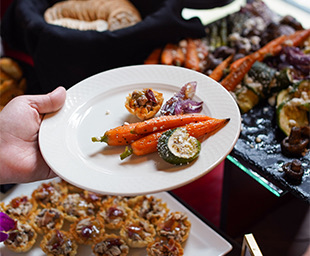 Meet our
Culinary Experts
Chef Gregory Rollins discovered his love of cooking while living and working in his native country Barbados. He earned a scholarship to study at the prestigious Culinary Institute of America in Albany, NY and later sharpened his culinary skills at the New England Culinary Institute.

He has been recognized and awarded within his industry in the years since, earning accolades from the National Festival of Creative Arts in Barbados and the American Culinary Federation Competition.

Chef Rollins and his team are devoted to local sourcing and seasonality in every dish they prepare. The Graylyn culinary team even grows a varietiy of fresh produce and herbs on the Estate. Chef Rollins also takes great care and attention to adapting to the dietary needs of Graylyn's dining. If you can't find him in the kitchen or the garden, he's likely reading up on culinary trends, attending a food show, or networking with other chefs.