Skip to Content

Dining In Winston-Salem
Graylyn's World-Class Dining
The Graylyn dining experience begins each morning with a lavish Manor House breakfast featuring fresh, locally sourced ingredients. At midday and in the evening, guests enjoy Chef Mark Fortino exquisite seasonal menus in the Manor House dining rooms or on an elegant outdoor patio, heated on cool fall evenings, overlooking the estate.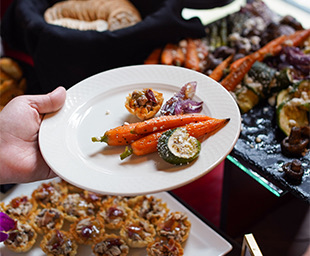 Chef Mark Fortino
Culinary Expert
Graylyn's extraordinary culinary experiences originate from Chef Mark Fortino and his team's passion, innovation, and creativity. After discovering his love of the culinary arts, he sharpened his skills at the Culinary Institute of America. He mastered his craft at two prestigious properties in New York City, the Ritz-Carlton on Central Park South and the world-famous Tavern on the Green.

Chef Mark is a culinary innovator and expert menu developer bringing 30 years of experience to Graylyn. He offers a wealth of experience and knowledge to Graylyn's cuisine and culinary team. Chef Mark desires to leave each guest with a memorable and exquisite food experience. Our culinary team is devoted to responsibly sourced ingredients, honoring the intentions of the Gray Family, and serving culinary experiences the family would be proud to share.

 "I feel we need to honor the spirit of the Gray Family. Every dish needs to tastefully celebrate their heritage and philanthropic impact in Winston-Salem, N.C." 

Whether you are visiting Graylyn for a special occasion, attending a meeting, or staying overnight at our estate, Graylyn's culinary team aims to create unforgettable food experiences. Chef Mark is humbled and honored to join our extraordinary, guest-centric team of professionals.